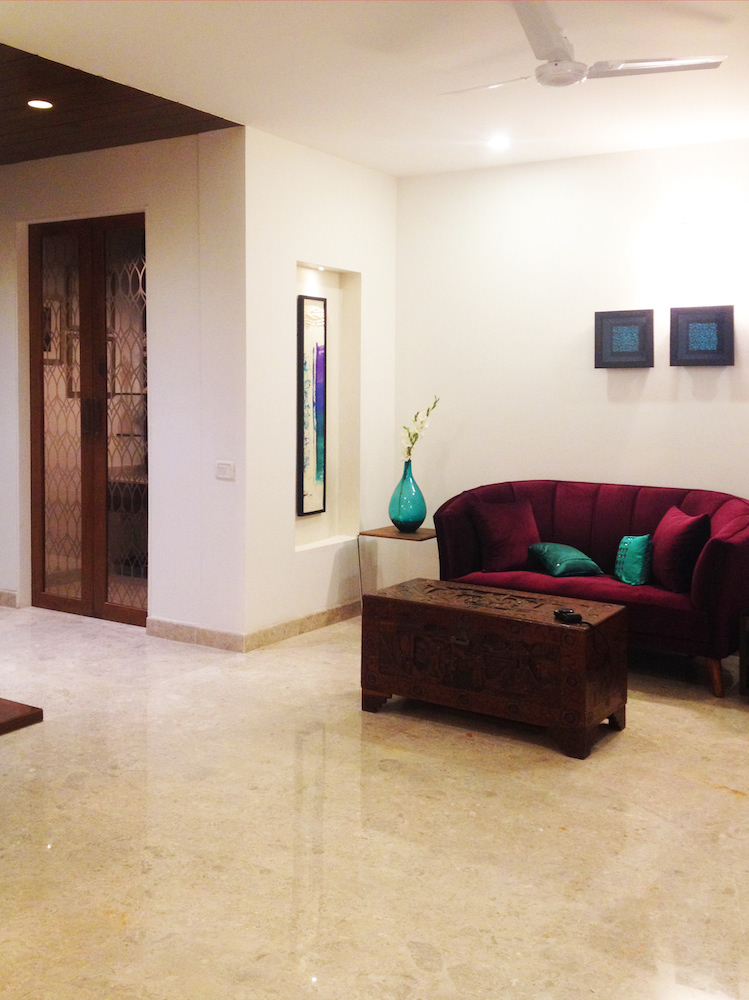 In the Nichani residence, the formal living area is sparsely decorated, yet communicates a sense of grandness with the use of American Walnut ceiling and wall panels. The use of rich upholstery fabrics such as velvet and chenille adds to the opulent atmosphere in the apartment.

The living is segregated into 2 seating zones – a classic 2 seater in imperial purple serves as a highlight, with a traditional wooden chest doubling up as a table, and a larger seating area with a wall panel as a back drop. The living and dining areas are accessoriesed in shades of teal, which add a sense of vibrancy to the space.

In the master bedroom, walnut wardrobes and headboards have been combined with an intricate "jalli" panel, mounted on tinted glass wardrobe shutters to add a touch of articulation to the space. The black metal light fittings with carvings adds to the effect. The second bedroom is colorful, with splashes of red and blue liberally administered, along with the use of colourful graphic fabrics. An existing third bedroom and study were combined to create a larger multi-functional space that serves as a family room, bar and a study or library. A sliding textured panel system cordons off this space from the living-dining area for privacy or movie watching.